Hospitality
Introduction
I am delighted to be accepted as the new Rear Commodore Hospitality. I am settling into the role with the welcome help of the Board, the staff in the office, kitchen and bar. My name is Steve Bradley, I am a cruiser sailor and can be contacted on:

Christmas Decorations
The Clubhouse has been wonderfully transformed with Christmas decorations.
Visit us for a drink or lunch to enjoy the festive spirit of Christchurch Sailing Club.
Winter Quiz
19 teams and over 90 quizzers assembling for Round 2 of our Winter Quiz and the competition is hotting up.
The cumulative scores sees 'On The Spot' retaining their lead with 107 points, with 'Colonel Mustard' and 'The Wooden Tops' equalising with 102 points in second place; and 'Dinamics' with 96 in third place. Another spirited and close fought evening with 11 teams scoring 90 and over.
The next Quiz night is on 6th December; and do join us for a Christmas themed challenge night on the 20th December.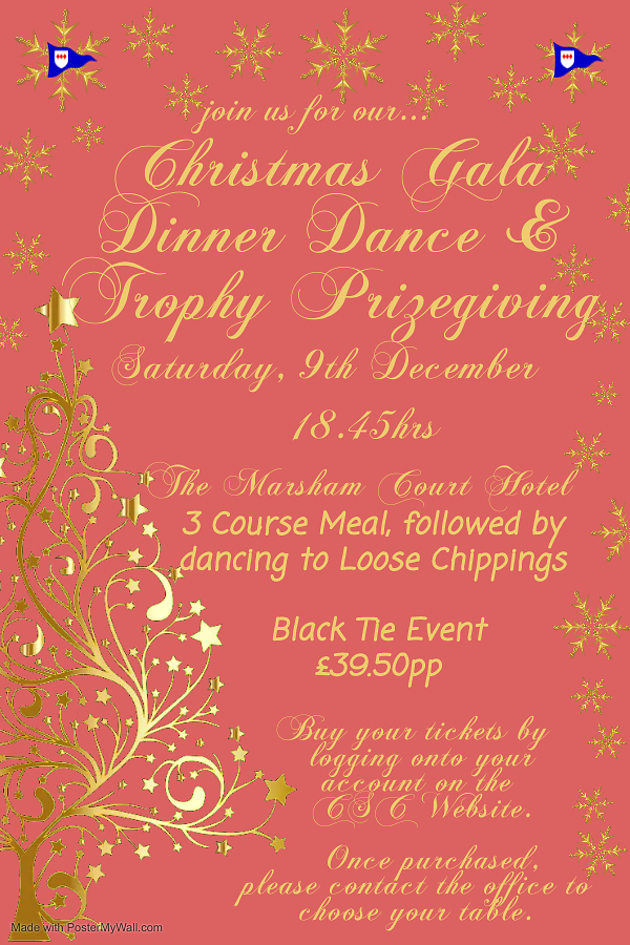 LOOSE CHIPPINGS PLAYING AT THE GALA DINNER DANCE PLACES NOW AVAILABLE FOR FRIENDS AND FAMILY!

The sensational live band Loose Chippings will be entertaining us at this years Christmas Gala Dinner Dance on the 9th December. Places are now available for non-members, friends and family and tickets can be booked on the website to start the Christmas festivities, so please come along and enjoy an evening of food, fun and dancing.
CHRISTMAS DRAW - NOW ON SALE
The Christmas Draw Sheet is now on the bar. To enter fill in a square with your name for just £1 and pay using your bar card and look forward to winning lots of prizes when the draw is made at 2.00pm on Sunday 17th December.
CHRISTMAS CARDS - NOW ON SALE

Christchurch Sailing Club Christmas cards are now on sales from the bar for only £1.50. The cards have been painted by a member of the clubs art group Mike Gardner. Thanks to Mike and Debbie Doe.
Hosting
Last week was a busy week for our Club as we hosted two celebrations of life, Christchurch Harbour Association AGM and the Solent Radio Controlled Yacht Club Christmas Lunch.
The bar and kitchen staff are to be congratulated for their skill and effort, making this very busy week a success for all.
This week we will be hosting Dorset Commodores past and present for their Annual Lunch.
Please note that there will be no lunchtime catering on Thursday. Thank you for your understanding.
FRIDAY RAFFLE
Simple rules...every time you buy a drink from the bar on Friday between 6.00pm and 8.00pm you will be given a raffle ticket. At 8.05pm the raffle will be drawn and the lucky winner, who must be in the building, will receive £20 added to their bar card.
This week Lee Elford was the lucky person who will have £20 added to their bar card. Cheers!
FRIDAY DRAW

Friday evening saw an amazing turn of events with both the £200 limited draw and the current £60 draw being won by folk in attendance.

Phil Whiston picked up the £60 and was lost for words.
The maximum £200 draw was won by Simon Booth, who was not lost for words. I never win anything he said delightedly.
WINTER TALK 29th NOVEMBER
The next winter talk is on Wednesday 29th November titled In the Mood, the life and death of the band leader Glen Miller. Food will be served from 6.45 pm with the talk starting at 8.00pm. Please book on the form by the hatch.
LUNCH TUESDAY TO SUNDAY AND DONT FORGET FISH AND CHIP FRIDAY
Please come along and enjoy lunch. In addition to the menu look out for the daily special on the board by the hatch.
DATES FOR YOUR DIARY
Gala Dinner Dance 9th December
Children's Christmas Party 10th December
Carols Round the Tree 15th December
Christmas Raffle 17th December
New Year 31st December
Wednesday Winter Talks:
29th Nov - In the Mood, By Chris Walker
13th Dec - Tales from a Roving Reporter, By Alan Jones
Wednesday Quizzes:
6th & 20th Dec
Burns Night 20th January
The Hospitality Team thank you for your support.
The Club Room The Heart of Your Club!
Check out our Facebook page

Chirstchurch Sailing Club

The Quay

Christchurch

BH23 2BY
Last updated 18:14 on 27 November 2023