Juniors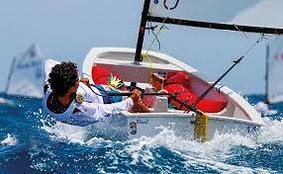 JUNIOR SECTION SAILING
The new Junior Core Team (JCT) formed earlier this year to start planning and organizing Junior Section sailing. The new team would like to start by thanking the previous team for all their hard work and running junior sailing up to now. Details of the new team are in the club magazine
We are hoping to be able to provide the following sailing groups but this will depend on the numbers of children and their level of experience.
Swashbucklers

An introduction to sailing and improving water confidence.

(similar to RYA 1 level skills)

Pirates

Developing sailing skills, (approximately RYA level 2 skills)

Adventurers

Improving sailing skills (approximately RYA level 3 & 4 skills)

Racers

Racing introduction and practice (some RYA level 4 skills and racing training)


Our youngest sailors are the 'Swashbucklers' who enjoy fun and games on the water, usually on Friday evenings during the summer, and also Juniors week in the holidays.
For the older kids and those looking to improve their sailing and racing skills we organize training sessions during the season and, for the very keen ones, more advanced race training throughout the winter months.
Christchurch Sailing Club hosts the annual Junior Interclub Regatta where sailors from Highcliffe, Mudeford and Christchurch race together, and we are also delighted to be supporters and members of the Spinnaker, Christchurch, Hillhead and Portchester Topper Squad. Junior racing takes place on Friday evenings and at weekends during the summer, including our famous Junior Week where upwards of 30 sailors enjoy fun racing and evening socials during the summer holidays.
We are very proud of all our young sailors, some of whom have gone on to qualify for RYA squads and race successfully at National and International level in a number of dinghy classes including Toppers, RS300s, Lasers, Splashes and Finns.
We support Junior sailors in all classes of boat, with Oppies, Teras and Toppers being the most popular fleets. We own several Club dinghies, including a couple of RS Fevas and an RS Quest, and we are especially keen to promote double-handed sailing and racing within the Club.
We are also a keen keelboat and cruiser Club and we provide lots of opportunities for crewing and helming on yachts and dayboats.
The Committee Junior Trophy
The Club Committee has agreed to award a Trophy every year to one of the Junior Members who has taken part in the Junior Training Programme. The trophy will be awarded to the Junior Member who gives the best account of some part of their sailing activities during the year. The winner, who will have a small replica to keep, will retain the trophy for a year.
So, Junior Members, cast your minds back over the year and think about some of the best bits of the sailing programme for you; or maybe when something disastrous happened and what you did to get out of the mess. These things are of interest to others to help make the club activities even better.
The Committee would like to hear about what you enjoyed, and if so why; what was the best bit; what did you dislike; what do you think you may have gained by taking part; was it too simple / hard for you; what suggestions would you offer; don't hesitate to say what you think and feel.
Your account can be submitted electronically and illustrated with photographs or you might even have ideas of your own that will interest others.
There are many Club Members who would be pleased to help you, so give it a go.
Closing date for entries three weeks prior to the AGM.
.
To download Christchurch Sailing Club's Safeguarding (Child Protection) Policy and details of the Junior Sponsorship scheme go to the downloads page.
https://www.club2class.com/SpecialEvents/Overview/46
Yachts and Yachting News Reports on 2018 Junior Week
Last updated 22:23 on 8 June 2023